About Quality Rural Kit Homes
We are a small team of professionals with an extensive network of trades suppliers, fabricators and industry experts. We only use and recommend quality building products that comply, and usually exceed Australian standards. We offer more than many of our competitor's and we believe that we have the ability and expertise to out service the major players in the Kit Home industry.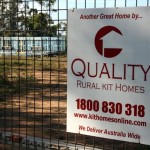 We have personally designed our range of Kit Homes and are proud of quality and presentation of all our products.
One of our main goals was to provide modern, comfortable and price effective house designs that we would be proud to build and own ourselves.
We believe we have achieved this.
We supply Quality Kit Homes for the owner builder.
Whether you be an owner builder, retiree, investor or developer on any scale, we can accommodate your building requirements. With our unique Steel Kit Homes. We have a unique sub-floor system and only use accredited steel fabrication experts. We can supply a home to suit your site conditions, including cyclone rated areas…..anywhere in Australia!
WARILLA BEACH CUSTOM DESIGN KIT HOME
CALL NOW
FREECALL 1800 830 318 And Discover Why
"Quality Rural Kit Homes" is Australia's #1 Trusted And Preferred Kit Home Company